Vassilis Poulopoulos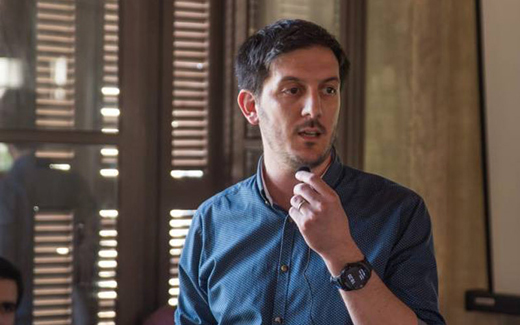 Short CV
Father, Code lover, Data Scientist, STEM ambassador, performing research on Cultural Informatics
Born in Kalamata in 1982 received my diploma from the Computer Engineer and Informatics Department of the University of Patras in 2005. I obtained my MSc and PhD from the same department in 2007 and 2010 accordingly in data mining and analysis from heterogenous sources of the web and especially big data.
Recently elected as an Assistant Professor at the department of the Digital Systems of the University of Peloponnese, while being a member of Knowledge and Uncertainty Research Lab of the University of Peloponnese from 2017. In 2019 I completed my post-doc performing research on the role of Big Data in Cultural Informatics, continuing the research on it.
I have worked for CTI-DIOPHANTUS (Research Institute) on several EU projects from 2002-2010 when I decided to turn to the private sector and especially decided to follow the "greek startup wave". Being a founding member of Hellenic Startup Association and working for several projects, companies and startups from 2010 until 2015 a year that found me back to the University classes teaching for the Technological Educational Institute of Peloponnese.

Being a tech freak I also serve as a STEM ambassador to the new generation by co-organizing the courses, the teaching material and the online platform for the Codegirls initiative co-organized by the Embassy of United States in Athens. In parallel, being a founding member of the AMKE "O Sporos" I have performed several actions in order to communicate the principles of technology, innovation and entrepreneurship to the new generation.
My research interests include among others: data mining, knowledge extraction, big data, cultural heritage, personalization techniques, clustering techniques, categorization techniques as well as innovative web and mobile applications that could make our everyday life easier and better. I have published more than 50 papers in the aforementioned fields. Detailed information about the publications can be found in Google Scholar
Contact details
ΓΑΒ LAB - Knowledge and Uncertainty Research Laboratory
Department of Informatics and Telecommunications
University of the Peloponnese
Akadimaikou G. K. Vlachou str.
22 131 Tripolis
GREECE
Latest
I currently serve as:
Assistant Professor at the Department of Digital Systems of the University of the Peloponnese
Member of ΓΑΒ LAB at the Department of Telecommunications and Informatics of the University of Peloponnese
Detailed CV