Cultural informatics 2019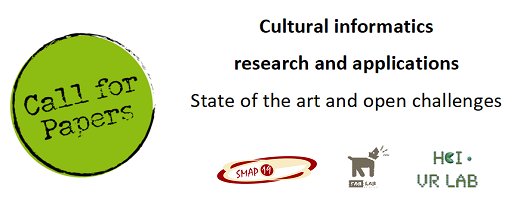 Cultural informatics research and applications 2019: State of the art and open challenges (CI2019). Larnaca, Cyprus, June 9 or 10, 2019, at SMAP 2019 / UMAP 2019.
The aim of this workshop is to bring together projects, research groups, stakeholders, independent researchers and practitioners who are active in the broader area of cultural informatics in order to present the current state of affairs, discuss open challenges faced by each one and explore possible collaborations. The ultimate goal is that tools, technologies, know-how, methods and best practices can be exchanged, thus significantly improving our efficiency and management/allocation of public and private resources.
The workshop is organized as a part of the SMAP 2019 conference that will be held in Larnaca, Cyprus on June 9-10, 2019. It is also collocated with the UMAP 2019 conference that will be held at the same venue on June 9-12.
CI2019 is the 3rd event of its series, following meetings in Athens, May 2018 and Nicossia, November 2018.
Issues to be discussed..
..fall under three broad categories:
Humanities
Technology
Dissemination / Exploitation
Important dates
Article contribution deadline: June 2, 2019
Feedback: During the meeting, June 9 or 10, 2019
Camera ready submission: June 16, 2019
Submission instructions
To help prepare the discussion, but also to complement your participation with a published record of your input, contributions are invited in the form of short notes. Please adhere to the following structure when preparing your contribution.
Short description
A short description of your research group or project, including contact details.
Issues in Humanities
This year we will focus primarily on user experience evaluation. However, you can raise other humanities issues to be presented and discussed during the workshop.
Issues in Technology
This year we will primarily focus on personalization. However, you can raise other technology issues to be discussed during the workshop.
Issues in Exploitation
This year we will primarily focus on business plans. However, you can raise other explitation issues to be discussed during the workshop.
Open Challenges
Open challenges that you would like to see discussed during the 2019 workhop, or to be used as the basis for the discussions in future editions.


Contributions to Cultural Informatics 2019 should be formatted according to the Springer conference template and range between 6 and 12 pages. A published contribution is not a requirement for the participation in CI2019.




Please note that this is an outline of points to discuss in our meeting, not a scientific presentation of your work. Your work can be presented in a paper submitted to SMAP - an option we highly recommend as it is included in your registration.




Contributions can be submitted via EasyChair.

Publication

Proceedings shall be submitted to CEUR-WS.org for online publication

Registration

CI2019 is organized as a part of SMAP 2019. You have the option to register with the "Workshop/Tutorial fee" if you are only following CI2019, or for the full registration if you are also attending or contributing an additional paper to the main conference. Registered participants of UMAP 2019 are also welcome to attend or contribute to CI2019.

Organizers

Angeliki Antoniou
HCI-VR - Human-Computer Interaction and Virtual Reality Lab
Department of Informatics and Telecommunications
University of Peloponnese
Akadimaikou G. K. Vlachou str
22 131 Tripolis
GREECE
angelant@uop.gr


Manolis Wallace
ΓΑΒ LAB - Knowledge and Uncertainty Research Laboratory
Department of Informatics and Telecommunications
University of Peloponnese
Akadimaikou G. K. Vlachou str
22 131 Tripolis
GREECE
wallace@uop.gr